pawsome testimonials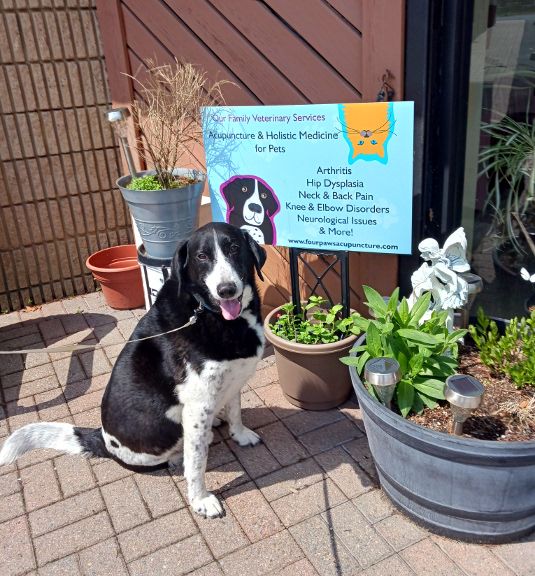 My boy, Marty Mcfly has been doing so well since seeing Jeanie at Four Paws Acupuncture. He is able to walk longer and without the sling! His new food arrived, I've been slowly integrating into his diet and he LOVES it. Also picked up some grain free hip and joint treats.
Thanks to this amazing team for laying out the new regiment, this is a big help. He truly loves you all. Chrissy W
Marty is a tripod - aka he has 3 legs!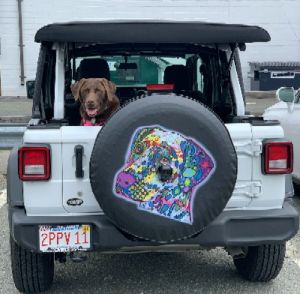 Jessie is our special girl. She has a spunk for life and a love for all that is truly infectious. She inspires us everyday to live like there is no tomorrow and love everyone like they are truly the best person on earth. During the summer, you can find her swimming around in our in-ground pool and during the winter you can find she lying in the biggest snow bank. Unfortunately, she has had difficulty with elbow dysplasia ever since she was 2 years old and her hips seem to bother her in her older age.
Thanks to Jeanie and Four Paws Acupuncture she has been able to enjoy all of her favorite things. We have our spunky Jessie back!! You should see Jessie run when I tell her we are going to see Jeanie for her treatment and now she is even giving our two lab puppies a run for their money! Thank you Jeanie for helping Jessie to be her true self!
Erin O.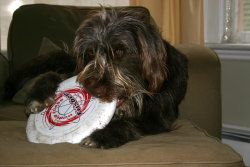 Zack aka The Wookie
Jeanie Marie Mossa is an extremely competent and knowledgeable person as well as caring. She has helped to heal my dog with his anxieties and he and I can't thank her enough for it. She really has a talent with animals. They love and trust her immediately. Zack is always so excited to see her every time she visits, unlike the vet! Zach is now able to play more frisbee thanks to his acupuncture sessions. Jeanie has also worked with me and helped grow my business Professional Pet Services of Salem, my clients love her too. Katherine M.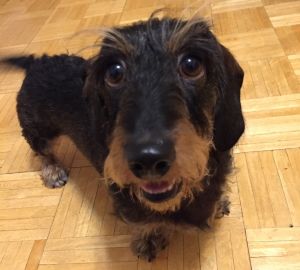 Maddy had injured his back while running, he suffered a slipped disc earlier this year. The vet had recommended we keep him on strict bed rest for 8 weeks and then keep him in a confined area to keep him from re-injuring it. We realized this was not enough...he initially regained use of back legs but his recovery was very limited. We searched for alternative therapeutic modalities and found Jeanie.
In addition to Jeanie's Acupuncture treatments, she has also given detailed instructions on how to apply acupressure massage to Maddy between his scheduled visits. This has been very helpful in Maddy's recovery. She has also been extremely helpful in recommending homeopathic pain relievers and Chinese herbal sprays to help him through his suffering.
I totally agree with her explanations regarding why we need to do our part in helping Maddy between visits...we cannot just expect that Acupuncture every few weeks will cure him, but that a key part of his recovery is our participation too.
After 4 treatments so far we definitely see substantial improvement in his balance and mobility...and we see Maddy returning to his happy self again. We are determined to keep doing the massages and giving Maddy his supplements and anything we can to keep him improving and avoid any setbacks.
We recently bought a kiddie pool and we are now doing hydrotherapy. We are sure Maddy will benefit from this low impact exercise too.
I would definitely recommend Jeanie"s services and if she does treat your pet, don't think of it as just an Acupuncture session...it's a lot more. It is a treatment package...Acupuncture, acupressure, cold laser, education on treatment and recommendations for things that need to be done daily. Definitely do the things she recommends, it will speed up recovery and your little fur baby will love you for it. Note to Jeanie: Thanks so much for helping with Maddy - Meg & Brian O.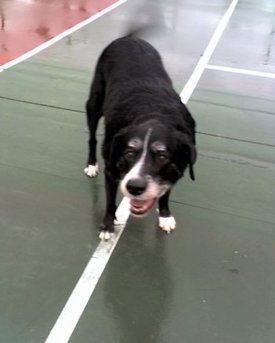 When I adopted Bentley, he was already 13 years old and had arthritis in all four legs. He was a puppy in an old dog's body, full of life and love and spirit, and the most gentle and loving dog you could ever meet. He brought a tremendous amount of joy into my life every single day. I spent many months researching every possible way that I could help him, (in addition to his vet's care) medically and holistically, and I was able to have another wonderful 3 1/2 years with my sweet boy. My only regret is that I wish I had discovered acupuncture for him sooner.
I started to notice small differences after his second session, then after the third I could see quantitative improvement in his mobility. Not only was he managing the stairs much more easily, he was instigating wrestling matches with our other dog again. He was steady on his feet again, was much less stiff and pained when getting up, slept comfortably without needing to change positions several times, and most importantly, was happy, playful, and eager for walks and car rides again. He even loved the smelly liniment that I applied each day, clearly because it helped him feel so much better.
Bentley passed away during the last week of January. I will always be especially grateful for the last happy five months I was able to have with him. I have no doubt that it was due in large part to his sessions with Jeanie. Her thoughtful care for him made an enormous difference in the comfort, happiness and quality of life of my dog and our household. I can't recommend her highly enough. Heidi D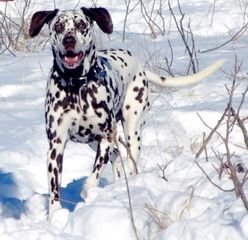 "Cuddly" Dudley, aka "the Duds," is a 16-year old Liver-Spotted Dalmatian whom we rescued when he was 18 months old. As he has aged, Dudley developed a severe case of reflux disease and debilitating arthritis in his joints. Despite changes to his diet and supplements for his digestion and joint health, he was still feeling really bad and we were afraid he wouldn't last another year. That was a couple of years ago. Fortunately we heard about and started scheduling acupuncture treatments from Jeanie Marie. It has made all the difference!
Initially it was a few sessions per month, but now he only needs acupuncture only once-a-month for maintenance. These treatments have saved his life and helped him to feel good. He no longer has "acid attacks" and can still take moderate walks a few times each day. Because of her gentle manner, Dudley got used to Jeanie Marie and allowed her to use the laser, needles and "stinky herbs" rather quickly. He now even falls asleep during his 'spa day' session on the couch. We are very grateful for Jeanie Marie's professionalism, knowledge, kindness and reasonable rates and feel so lucky to have such a talented dog healer right in our neck of the woods. - Linda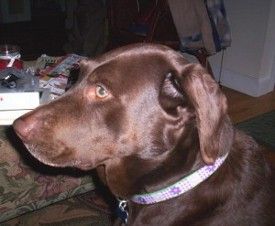 Bailey is my 9 1/2 year old very beautiful & active little girl...she loves chasing "Mr. squirrel". Bailey has been battling kidney disease for 2 1/2 years now and things have been going along fairly well. Unfortunately, two months ago, she had a really bad flair up and it looked like it was the starting of kidney failure. My heart was breaking at this news. On top of the kidney disease and it's accompanying issues, like stomach upset & ulcers taking it's toll on her, she was also suffering from arthritis everywhere. She wasn't eating, she was sick all the time and she could hardly walk. I felt like I was loosing her in a very painful way.
I work at an Animal Hospital where we have been recommending Jeanie for years and a colleague said to me....CALL Jeanie! I didn't know if this was going to work, only because there was so much wrong with Bailey. But I had heard so many wonderful things about Jeanie and I felt that she would know what to do. I followed everything Jeanie suggested; food, supplements, "stinky" herbs & the scheduled acupuncture appointments.
Today she is running around the backyard after Mr. Squirrel again, she wags her tail like crazy again and she is eating and drinking! She is happy, which is the most important thing I can do for her. It's amazing to watch Jeanie work. Bailey goes from this crazy Labrador retriever mode to the most calm relaxed state I have ever seen. Watching her get to that "happy" state is an overwhelming feeling of Joy for me. I can't recommend Jeanie enough ....Call her! It's amazing and it works. It is honestly nothing less than a miracle, truly! - Lisa R.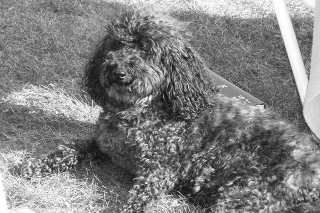 Gabby
When our sixteen year old mini-poodle, Gabby, started to show signs of stiffness in her rear legs our vet suggested acupuncture as an option to traditional treatment. We gave Jeanie Marie a call in early September, 2008 and since then her weekly visits have been a highlight for the entire family.
Jeanie Marie's focus on acupuncture, diet and eastern remedies allows us to spend time on making Gabby healthy and comfortable rather than focusing on illness. Gabby has benefited with increased stability, more restful sleep and 100% improvement in her digestive system resulting in some much needed weight gain and increased vigor! Her favorite needle spot? Stomach 36! We have all benefited from 4 Paws. Basmati rice is now a favorite addition to our meals and "fire water" is applied to everyone's sore joints and muscles. Thank you Jeanie Marie for giving Gabby a new lease on life! Bill and Marilee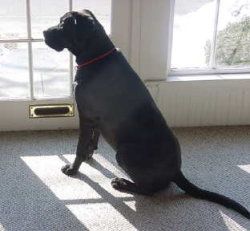 Ozzy
"My dear sweet,handsome boy Ozzy, 8 1/2 year old Boxer/Black Lab mix, has been diagnosed with bone cancer in his left front paw and it has spread to his lungs. The bad news is that there is no cure. The good news is that it has brought Jeanie Marie of Four Paws Acupuncture into our lives. Her skill, knowledge and compassion has comforted and sustained us both. Through the use of acupuncture, herbs and massage Ozzy has continued to function with minimal pain and the progression of the disease has slowed. He is happy and still maintains his energy, sense of humor and tremendous appetite. Without Jeanie Marie I don't think Ozzy would still be with us and I am happy with every day we have with Ozzy." Loretta C.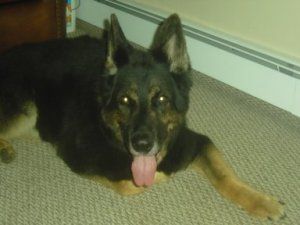 Bear
"Thank you so much for all you have done for Bear!!! Before you started treating him, he was very wobbly and fell frequently. I was scared to death that before long I would have no choice and be forced to 'do the humane thing.' I would do anything for my 'best friend' and it definitely paid off! After his fourth treatment I woke up the next morning to a 'miracle'!!! He was walking better than he had in several months. The effects last for a longer period of time each treatment. Even his face looks younger and more relaxed. I admit, I was skeptical at first, but I am now 100% convinced that the acupuncture has helped him. I have already begun to recommend acupuncture to people. I look forward to your visit each week, and so do all 3 dogs. (I'm sure the cookies have nothing to do with it!)" Lauren N.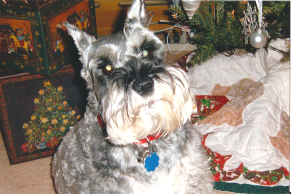 Nikki
"I sought alternatives to surgery because of the long recovery period required in a crate (12 weeks). I also consulted with a famous canine orthopedic surgeon in Boston who prescribed another anti-inflammatory that made Nikki very ill. Of course, all said surgery was necessary, but I think natural is the way to go. A home cooked diet also increases the dog's immune system. I see the difference in Nikki, with your treatments and a natural diet she 'glows' with good health and strength.
As for the greatest gift you have given my dog it was watching her traveling so comfortably, walking the slick floors of two airports without so much as a stumble or a limp.Your treatment has eased her pain and restored her quality of dog life. That has been the greatest gift to me. I just finished giving her a dinner of freshly made oats, turkey and green beans made with fresh garlic and she loved every bite. Monday, Jan. 8th is her seventh birthday." Maria C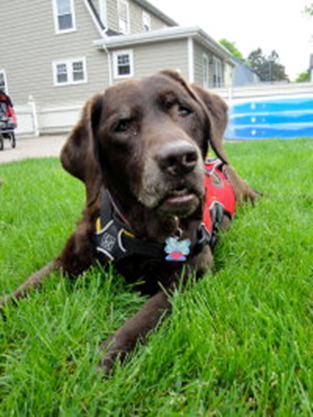 Marley
When I heard the words "tumor" and "amputation" from my Veterinarian I thought I was going to faint. The day I had dreaded for more than 12 years had arrived. Our beloved chocolate lab, Marley was in terrible pain, the cancer eating away at the bone in her hip. We had a heart wrenching decision ahead of us – put her down and out of misery or remove her left hind leg. One surgeon said what would be her remaining back leg had a previous torn ACL which would no doubt rupture again. Another surgeon gave us the news we wanted to hear – her knee should be fine and she didn't have an owner who regretted making the decision to amputate – dogs adapt amazingly well.
She had the surgery February 09 and here she is 6 months later – hopping around as a "tripawd". Only a week or so after the surgery she was walking on her own. We made it through the surgery and recovery with the support from www.tripawds.com, an amazing site started by owners of a dog who had lost a leg from cancer. We found that we were not alone going through this! It is amazing how common dog cancer is these days.
We recently took a vacation at the beach and I bought her a life jacket thinking for sure she would sink to the side, but she didn't even need it – she swam like any 4 legger! Her prognosis was only 4-6 months, but she's still here and there are no signs of the cancer spreading so far. We've changed her diet to hamburger, canned chicken, spot stew and ground up veggies. We've given her K9 immunity supplements and most importantly, she gets her visits from Jeanie Marie of Four Paws Acupuncture – I honestly would not have made it through this without her! Marley is so relaxed after her treatments. I love that I am doing something to make her feel better without the use of drugs which can often have side effects. Jeanie has also been such a support for me as well. She has become a dear friend and I look forward to her coming each week. Thank you so much Jeanie!! Holly C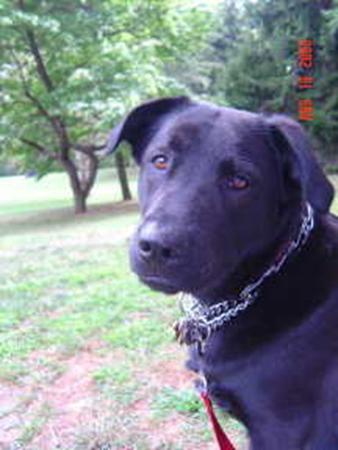 Dewey's our 3+ year old Lab mix and he unfortunately had to have surgery on his right hind leg (luxating patella and partial cruciate tear) in April of 2008 as he would labor to merely get up and down. The surgery was relatively successful (not a cure all), but the recuperation proved to be both challenging and unpleasant and we sought to make this move as quickly and as comfortable as possible for him. This is where a combination of adequan shots and, separately, Jeanie of Four Paws Acupuncture, have come in and really helped.
Jeanie came right to our home at a mutually convenient time after we gave her the background on Dewey and his "trick" knee and we meaningfully discussed recovery expectations, acupuncture treatment and his diet and how it may help or hinder his recovery efforts and overall, holistic health. She gave us a wealth of helpful information covering the above and details on relevant herbal supplements to consider. After the conversation, Dewey's first treatment began with us being both hopeful and curious as to how he'd react to needles, etc…
The first treatment and those thereafter went and continue to go well… Dewey was a gentleman, comfortable and slept like a baby following it. The next morning he was "jacked and pumped" and as playful as a puppy which encouraged us. For follow ups, Jeanie recommended weekly treatments, giving way to every other week, every three weeks and finally monthly to an "as needed," tune up basis.
As time's gone on we believe Jeanie's treatments have really helped, we feel we made a good decision in bringing her into Dewey's personal little wellness program and he really, genuinely enjoys visits from the "treat lady" (he likes her rap and comforting nature)… we really like that she truly cares about him and always inquires into how he's doing after and between his appointments. We'd recommend Jeanie to anybody seeking to try and improve the overall well being of their dog kids." Darlene and Al