healing pet amulets with crystals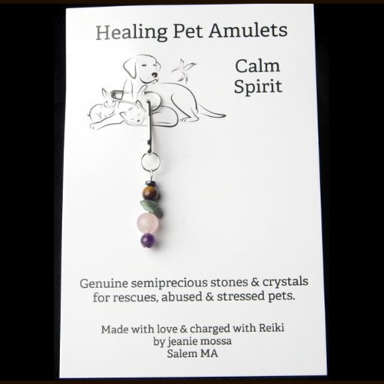 Healing Pet Amulets with Semiprecious Stones for Pets
Crystals have been used since ancient times for healing, medicinal purposes and spiritual practices as well as for adornment. Gemstones and crystals are said to help heal emotions, calm the mind and reduce stress.
In my holistic animal practice, I treat so many rescued pets who have been abandoned, abused and traumatized. My dog, Quan Yin also a rescue was the inspiration for this line of amulets.
These pet amulets may be attached to your pet's collar, crate, cage or placed well hidden its bed. Make sure it is in a place your pet will not swallow or eat it!
Handcrafted in Salem MA with genuine semiprecious stones.
All crystals are charged with Reiki. Free USA Shipping with a gift bag.
See the entire line of our Healing Pet Amulets on our Nature Realm Portal Etsy Shop