books for people & pets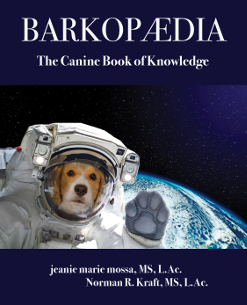 BARKOPAEDIA: The Canine Book of Knowledge
Everything in the Universe your dog wants you to know! It's an encyclopedia of health and healing modalities for dog owners including treatments for common pain, ailments, and injuries. Acupressure techniques, herbal, homeopathic remedies, nutrition and more. The book additionally offers humor and an exploration of the canine spiritual and esoteric.
Throughout the book are humorous tales and stories from the perspective of the author's canine acupuncture practice and the house calls she made. You will even find a chapter on the famous dog Toto too.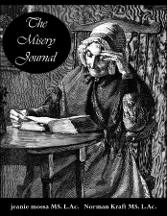 The Misery Journal: Finding Patterns in Your Aches & Pains
A 90-day logbook to discover what makes your discomfort better or worse. Created by acupuncturists and herbalists with over 25 years of experience treating pain holistically in people and animals.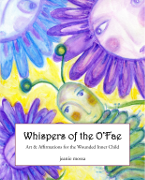 Whispers of the O'Fae: Art & Affirmations for the Wounded Inner Child
A playful guide for all those who have had bizarre childhoods, experienced trauma or abuse - either physical or emotional and have lived in fear of their parents, teachers or guardians.
With the help of whimsical spirit beings, the reader takes a magical journey into the Enchanted Forest O'Fae, a safe place to play - where no demons, monsters or negative actions are allowed.
Not in intended as a substitute for professional therapy, this book is an eclectic approach to help free the trapped inner child who has been hiding inside many of us. Available on Amazon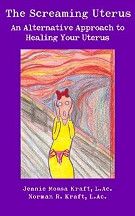 The Screaming Uterus: An Alternative Approach to Healing Your Uterus
What is the sound the uterus makes when a woman is suffering from fibroids or endometriosis? What are your options to treat these issues?
Most American women are given the choice of having a hysterectomy or hormone replacement until menopause to relieve the symptoms of these disorders. What most women do not know is that there are natural approaches.
This book is not a substitute for medical care. It explores natural remedies, Traditional Chinese medicine and holistic therapies to help relieve the symptoms and pain., Available on Kindle Only
Or watch the updated version with much more information in our 3.5 hour online class: Treating Female Disorders with Alternative Medicine.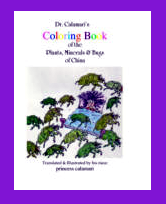 Out of Print: Dr Calamari's Guide to the Herbs, Minerals & Bugs of China