welcome
four paws acupuncture
Acupuncture & Traditional Chinese Medicine for Pets
Serving the North Shore of Massachusetts
Acupuncture and traditional Chinese medicine have been used for over 3,00 years to help relieve pain, ailments, stress, and other symptoms. As a certified National Certification Commission for Acupuncture and Oriental Medicine (NCCAOM) professional, licensed acupuncturist, herbalist and book author, I can help transform your pet's vitality and life into a healthier and better one. For over 25 years, I have witnessed hundreds of positive results after treating animals and people. I welcome the opportunity to work with you and your veterinarian to combine the best of both worlds: western medicine and holistic medicine to keep your pet happy, active and healthy.
I treat canine patients on specific days at Our Family Veterinary Services, 649 Lowell Street in Peabody Massachusetts. In the Salem area, house-calls are available. View details about my services. (Note that many pet insurance companies will cover acupuncture, ask your provider.)
As of Autumn 2023, I am accepting new human patients at the Tai Chi Acupuncture & Wellness Center in Danvers. For more information on rates, insurance coverage or to schedule a session please contact the center directly at: https://www.taichi-wellness.com/
Not near the North Shore of MA? No problem, Barking Zoom Consultations can be scheduled at your convenience. This 40 minute consultation combines holistic medicine with energy healing and will provide recommendations for herbs, homeopathic remedies, acupressure tips and recipes specific to your pet's needs. Consultations are followed by a virtual Reiki session. (Reiki therapy is based on the belief that vital energy flows through all bodies. A Reiki practitioner uses a gentle touch or places his/her hands above a body to help guide this energy and promote balance and healing.)
Curious about holistic therapies, herbs, and natural remedies for pets and/or people? My 13 online classes are ready to view at your own pace. No time for classes? My book, BARKOPAEDIA, The Canine Book of Knowledge is everything in the Universe your dog wants you to know. (Available on Amazon).
🎁Our line of Healing Pet Amulets with Semiprecious Stones & Crystals can be found at: https://www.etsy.com/shop/NatureRealmPortal Free USA Shipping!
Subscribe free to the Four Paws Acupuncture YouTube Channel packed with over 300 videos for pet owners.
As a smaller practice, I welcome communication via email rather than the phone. I promise you a quick response during working hours. Click contact 4 Paws Acupuncture on the navigation tab.
Sending healing thoughts to all,
jeanie marie mossa MS. L.Ac.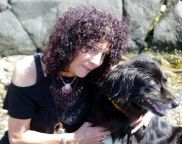 🐾Pet Acupuncture & All That's Included in a Session 🐾 Laser, Acupressure, Herbs, Tuning Forks, Reiki & More!